Update –
Update – trends in cash demand during the pandemic
Cash demand during COVID-19
The Bank has recently published some highly topical research on trends in cash demand during the COVID-19 pandemic. Some of the results are not quite what you might have expected! The key findings are:
Since the onset of COVID-19, the value of banknotes in circulation has risen sharply. This has occurred despite cash being used much less for everyday transactions.
Much of the strong demand for banknotes can be attributed to people's desire to hold cash for precautionary or store-of-wealth purposes.
This behaviour is common during periods of economic uncertainty, and many other countries saw similar patterns of cash demand.
You can read the full article online – Cash Demand during COVID-19 (March 2021).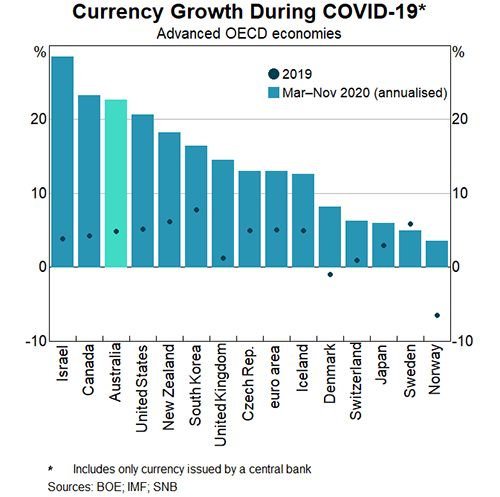 Recent trends in counterfeiting
We'd also like to share with you the latest data on counterfeiting activity in Australia. The figures show that rates of counterfeiting remain low in Australia and have continued to decline in recent years. Interestingly, while overall rates of counterfeiting have fallen, in 2020 there was a rise in counterfeiting of the $100 denomination. In fact, we estimate that the $100 accounted for about 60 per cent of all counterfeits detected in 2020, which marks the first time in the last decade that the $100 has been the most counterfeited denomination over a full year. To date very few counterfeits of the NGB series have been detected in circulation and all of these counterfeits have been low quality.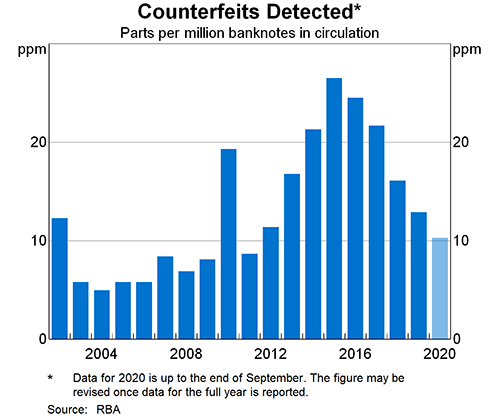 If you are interested in finding out more about recent counterfeiting trends in Australia, check out the statistics section of the RBA website where we have just released updated figures on the detection of counterfeits in Australia by denomination.
New legal agreement for banknote testing
While the Next Generation Banknote program has now come to a close, we'd like to keep working with you on future projects such as research trials and counterfeit testing. To make this as simple and easy as possible, banknote equipment manufacturers and users can now access banknote test materials under a new single legal agreement, the Banknote Materials Agreement.
If you are interested in working with us in the future and haven't already signed up to the new agreement, please reach out to our Industry Engagement team for more information.
Website refresh
We have just launched our refreshed Banknotes website – this website now hosts most of the information that was previously available on the Industry Engagement Hub (and a lot more!). Check it out here!