Collecting Banknotes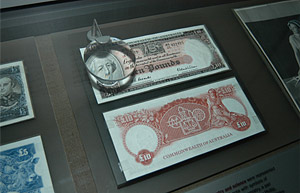 Banknotes are a popular collectible and offer a perspective on Australia's culture and history.
Many investors collect banknotes based on serial numbers or signature combinations. Australian banknotes issued since 1993 include the year of manufacture in the banknote's serial number, enabling collectors to acquire banknotes based on the year they are produced.
The following information is provided for those interested in collecting Australian banknotes.
Standard uncirculated banknotes can be purchased at our Sydney and Canberra branches. Please note a limit of $500 per person per week applies.
Banknote Valuations
The Reserve Bank redeems all previously issued Australian banknotes at face value.
Although they are not obliged to do so, most commercial banks will also redeem old Australian banknotes at face value. Any reluctance to accept these banknotes may simply reflect that their tellers are unfamiliar with the designs and security features of the old banknotes.
Some old banknotes may be valuable as collector items. The Reserve Bank does not provide opinions concerning the market value of old, rare or misprinted banknotes. Old banknotes may be appraised by a reputable banknote and coin dealer. The Reserve Bank does not endorse any particular organisation, but a number of Australian banknote and coin dealers are members of the Australasian Numismatic Dealers Association Inc.