Sir John Monash (1865–1931)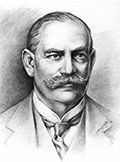 Engineer, soldier and civic leader.
Prior to the First World War Sir John Monash was acknowledged as one of Australia's foremost experts in reinforced concrete for civil construction projects. Often considered Australia's greatest military commander, he led the Australian Imperial Force (AIF) during its successful campaigns in 1918. He served as the vice chancellor of Melbourne University from 1923 and was chairman of Victoria's State Electricity Commission.
1854: John Monash's father, Louis Monash, emigrated to Melbourne from Prussia.
1863: On a return visit to his homeland, Louis met and married Bertha Manasse.
1864: The couple returned to Melbourne.
1865: John Monash was born in West Melbourne on 27 June 1865.
1875: The family moved to NSW, and John attended Jerilderie Public School.
1877–1881: Bertha and the three children moved back to Melbourne. Louis joined them in 1882. Monash was educated at Scotch College, Melbourne.
1882: Monash enrolled in arts and engineering at the University of Melbourne.
1884: He involved himself in student politics, and was a co-founder of the Melbourne University Union. He was one of the first to join the University Company of the 4th Battalion, Victorian Rifles.
1885: Monash interrupted his studies for full-time employment when his mother fell ill. He worked on the construction of the Prince's Bridge over the Yarra River, while continuing to study part-time.
1886: When the University Company disbanded, he joined the North Melbourne Battery of the Garrison Artillery.
1888: He supervised the construction of Melbourne's Outer Circle eastern suburban railway line for two and a half years, including 18km rail, 24km roadworks and 16 bridges between Oakleigh and Fairfield.
1890: He resolved to finish his studies, and over the next two years completed arts, engineering and law degrees.
1891: Monash married Hannah Victoria Moss (known as 'Vic') in 1891 and their only child, Bertha, was born two years later.
1894: After being retrenched from his role as chief draughtsman at the Melbourne Harbour Trust during the depression in 1894, he formed a private practice with JT Noble Anderson as civil, mining and mechanical engineers and patent agents.
1897: Monash was promoted to the rank of Major and commanded the North Melbourne Battery, which was responsible for defending Melbourne ports, for the next 11 years.
1905: With business associates, Monash formed the successful Reinforced Concrete and Monier Pipe Construction Co Ltd. With this and his previous company Monash built hundreds of reinforced concrete structures, including water tanks, buildings and bridges, throughout Victoria and in South Australia.
1908: He was placed in charge of the Victorian section of the Australian Intelligence Corps.
1913: He took command of the 13th Infantry Brigade as Colonel.
1914: Soon after the outbreak of World War I, Monash was appointed commander of the 4th Infantry Brigade of the Australian Imperial Force. He trained his brigade in Egypt then commanded it throughout the Gallipoli campaign.
1915: Evacuated from Gallipoli with the 4th Infantry Brigade.
1916: Monash was given command of the 3rd Australian Division as Major-General.
1917: The Division's first major battle in northern France was at Messines in June 1917. Other important battles were fought at Broodseinde and Passchendaele in Belgium.
1918: Responding to the final enemy offensive in March, Amiens was defended. Monash was made a Knight Commander of the Bath and in June was appointed commander of the Australian Corps as Lieutenant-General. His military reputation reached new heights with his meticulous planning and the concerted use of infantry, artillery, tanks and aircraft at the Battle of Le Hamel on 4 July. Monash's battle plans were circulated widely among British divisional commanders as models of clarity. From 8 August there was a succession of victories, starting in Amiens and culminating in the breaking of the Hindenburg Line.
1918–1919: As Director-General of Repatriation and Demobilisation, Monash streamlined procedures for the repatriation of Australian soldiers and presided over the AIF Education Scheme, which assisted their transition to civilian life.
1919: Monash returned home at year's end to a tumultuous welcome in Melbourne.
1920: His wife died early in 1920 after a long illness. Later that year Monash became general manager, and then chairman, of the State Electricity Commission of Victoria, developing the use of brown coal from the Latrobe Valley to produce economical power for the state.
1923: Monash was vice-chancellor of the University of Melbourne from 1923, and president of the Australian Association for the Advancement of Science in the following year. In his final years the cause closest to his heart was the building of the Shrine of Remembrance in Melbourne.
1931: Monash died on 8 October 1931 and was given a State funeral. An estimated 250,000 mourners, the nation's largest funeral crowd at that time, paid their respects.
1958: Melbourne's Monash University was named after him.
2001: The General Sir John Monash Foundation was established to raise funds for, and to administer, Australia's own postgraduate scholarships – the John Monash Scholarships – to foster leadership, expertise and international networks, as well as build Australia's capabilities for the future.
Further information is available in Notable Australians.