$100 Banknote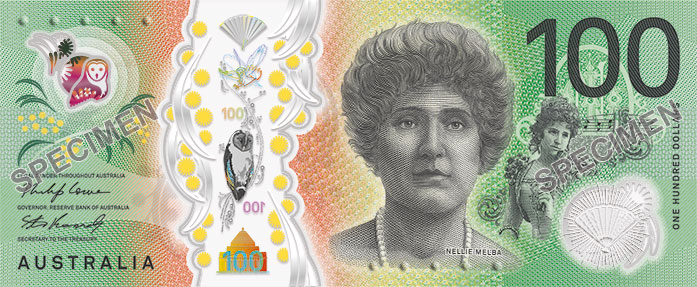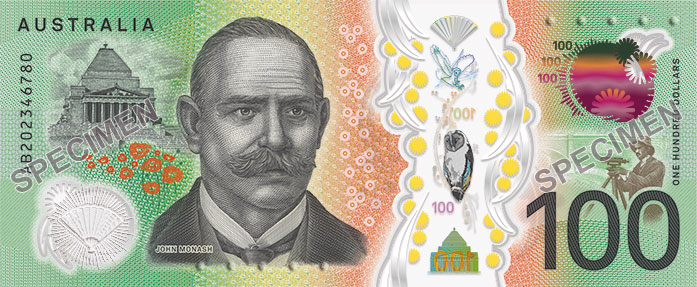 What's on the New Banknote
The new $100 banknote has a range of new security features designed to keep the banknote secure from counterfeiting. The security features are similar to those on the $5, $10, $20 and $50 issued between 2016 and 2019.
Each denomination in the new series of banknotes will feature a different species of Australian wattle and a native bird within a number of the security features. The $100 banknote features the Acacia pycnantha and the Australian Masked Owl (Tyto novaehollandiae).
The $100 banknote retains the portraits of Sir John Monash and Dame Nellie Melba, which are drawn from the same source photographs represented on the first polymer $100 banknote.
The banknote celebrates the contributions of these two outstanding Australians. Sir John Monash was an engineer, soldier and civic leader. He was a significant figure in the building-construction industry. Monash is also widely recognised for his service as a commander in the First World War. Dame Nellie Melba was an internationally renowned soprano who performed in Australia, Europe and the United States of America in the late 19th and early 20th century. In addition to performing, Melba made important contributions to the arts through teaching at the Melba Memorial Conservatorium of Music, now the Melba Opera Trust, in her home town of Melbourne.
Date of First Issue
The new $100 banknote was released into general circulation on 29 October 2020.
Did you know?
Monash was acknowledged as one of Australia's foremost experts in reinforced concrete for civil construction projects.
In 1926 Melba published her own singing tutorial the Melba Method and was the first Australian to appear on the cover of Time magazine in 1927.
The microprint on the new $100 features excerpts from Melba's autobiography Melodies and Memories and a letter written by Monash.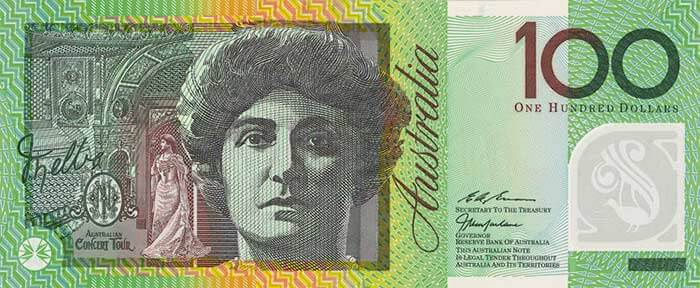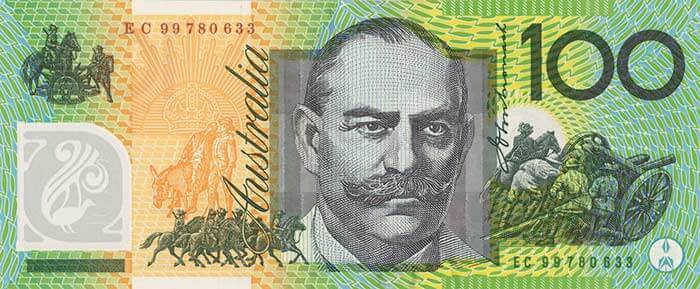 Who's who on the $100 banknote
In her lifetime, Dame Nellie Melba achieved international recognition as a soprano. Melba debuted in 1887 in Verdi's Rigoletto in Brussels and went on to sing with great success in London, Paris, Milan, New York and other major cities. Her most famous role was Mimi in Puccini's La Bohème. Although she toured the world, Melba found time for civic work in Australia, including raising funds for war charities. Dame Nellie's homecoming in 1902 involved an Australian and New Zealand concert tour (the tour program is depicted on the banknote).
Sir John Monash, a soldier, engineer and administrator, was one of Australia's greatest military commanders. During World War I, Monash served in Gallipoli and on the Western Front. His greatest victory was at Hamel. This battle inspired a succession of victories, culminating in the breaking of the Hindenburg Line. Throughout the 1920s, Sir John maintained a strong public profile, represented returned soldiers and frequently advised on military and engineering matters. He held a number of prominent civilian positions, including head of Victoria's State Electricity Commission. Towards the end of his life, Sir John was instrumental in the building of the Shrine of Remembrance in Melbourne.
Date of First Issue
The $100 polymer banknote was first issued on 15 May 1996.
Did you know?
Dame Nellie Melba was born Helen Porter Mitchell. After travelling to Europe in 1886, she adopted the stage name 'Melba' in homage to her home town.
As Director-General of Repatriation and Demobilisation, Sir John Monash streamlined procedures for the repatriation of Australian soldiers and presided over the Australian Imperial Forces Education Scheme, which assisted their transition to civilian life.