Next Generation Banknote Program
The new $10 banknote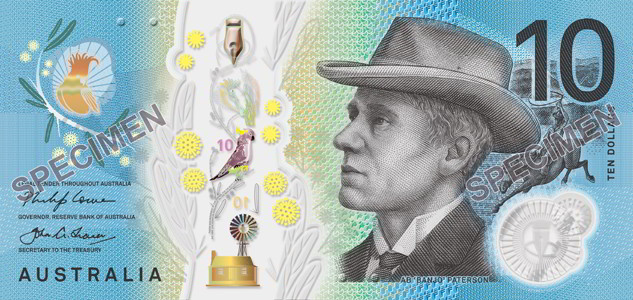 This image shows the basic design artwork for the signature side of the new $10 banknote.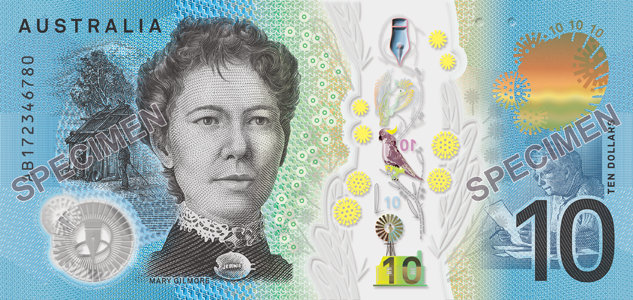 This image shows the basic design artwork for the serial number side of the new $10 banknote.
About the Designs
The Bank has revealed the design of the new $10 banknote that will be issued into circulation from September 2017.
The $10 banknote celebrates two famous Australian writers, Dame Mary Gilmore and AB 'Banjo' Paterson. Their work is recognised in several design elements on the banknote, including images of a pen nib in two of the clear windows and excerpts from their poems No Foe Shall Gather Our Harvest and The Man from Snowy River in microprint.
Innovative new security features have been incorporated in the new $10 banknote to help keep them secure from counterfeiting. These security features are similar to those in the $5 banknote issued in 2016, such as the top-to-bottom clear window and the patch with a rolling colour effect.
Each banknote in the new series will feature a different species of native Australia wattle and bird. The $10 banknote features the Bramble Wattle (Acacia victoriae) and the Sulphur-crested Cockatoo (Cacatua galerita).
As previously announced, key aspects of the existing design – colour, size and people portrayed – have been retained for ease of recognition and to minimise the disruption to businesses. The new banknote series also has a 'tactile' feature to help the vision-impaired community distinguish between different denominations of banknotes.
All banknotes issued by the Reserve Bank remain legal tender and can continue to be used.
Upgrading Australia's Banknotes
A core function of the Reserve Bank is to maintain public confidence in Australia's banknotes. Australia has one of the safest and most secure currencies in the world and has experienced relatively low levels of counterfeiting for many years. To ensure that this continues to be the case, the Reserve Bank researches anti-counterfeit technologies and developments in banknote design.The results of this work have culminated in a project to upgrade the security of Australia's banknotes.
The first denomination in the new series, the $5 banknote, was issued on 1 September 2016. The $10 banknote will be issued in September 2017, followed by the $50 then the remaining denominations in subsequent years.
Considerable work has already been undertaken on this project, including the development and review of banknote designs and production trials of new security features. It is important that the new features are durable, effectively incorporated into the banknote designs and rigorously tested. One aspect of this process is that the Reserve Bank has consulted extensively with key users of banknotes, including banknote equipment manufacturers, retail organisations, financial institutions and the vision-impaired community. Advice has also been sought through a number of channels during the development process, including a Design Advisory Panel, subject-matter experts and focus groups comprising members of the public. These ongoing consultations provide an opportunity to ensure that the new banknotes meet the needs of the community.
For more information
17 February 2017
Next Generation of Banknotes: $10 Design Reveal
15 September 2016
Bulletin article – New Banknotes: From Concept to Circulation
Alternatively download PDF 4.4MB
1 September 2016
Next Generation $5 Banknote Enters Circulation
12 April 2016
Media Release – Next Generation of Banknotes: $5 Banknote Design Reveal
21 March 2016
Media Release – Next Generation of Banknotes: Plans for the $5 Design Reveal
11 February 2016
Media Release – Next Generation of Banknotes: Issuance Date for the New $5 Banknote
17 September 2015
Bulletin article – Banknote Stakeholder Engagement
Alternative download as PDF (201KB)
19 March 2015
Bulletin article – Australian Banknotes: Assisting People with Vision Impairment
Alternative download as PDF (1.6MB)
13 February 2015
Media Release – Next Generation Banknotes: Additional Feature for the Vision Impaired
20 March 2014
Bulletin article – The Next Generation Banknote Project
Alternative download as PDF (3.3MB)
27 September 2012
Media Release – Upgrading Australia's Banknotes